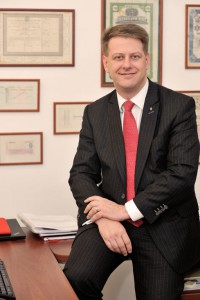 I was born in 1973 in Ostrava, "the steel heart of the country" at that time, and moved to Prague when 18 to study economics, diplomacy and journalism. I made sure to use each of these fields during at least one part of my career. As a journalist, I founded what is still the largest personal finance website (Penize.CZ), economics and diplomacy became especially useful when I became deputy minister of finance, responsible for fiscal policy, financial services, EU and foreign affairs. After leaving the government service for the first time, I cofounded a personal finance advisory company and in 2012 moved to another of my favorite cities, Washington, DC, to work for the World Bank.
In January 2014 I returned to Prague to coordinate the Czech EU policy. Strengthening our position in Brussels and with our key partners is the key priority – as well as the need to make us understandable and coherent. The issue of Czech entry into Eurozone is a special hobby (and not only because I became the first Czech "Mr. Euro" in 2005).
After leaving the government I have founded a consulting company EU Politics Advisory, focusing on issues related to the European Union and digital economy.
I love to read (but have no time to do so), I enjoy classical music and opera and when I really need to relax, I tend my rose garden – a third generation family hobby.
In 2016 I received the supreme French state decoration, the National Order of the Legion of Honour (Ordre national de la Légion d'honneur), for my work in support of European integration.
If you are interested to learn more: